Design of Security Facilities for Port – 358 Mesh and Chain Link Mesh
This is a performance specification for the main security items that are required to maintain the port security internally and externally including: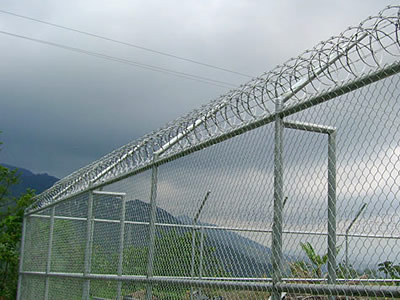 CPS-01: Port perimeter security fence.
Port perimeter security fence: Combined high security fencing for the port boundary perimeter with a stainless steel razor wire topping. This fence shall comprise unclimbable fence panels between 80 mm × 60 mm posts which will be concreted in position. The fence will be topped with coiled razor wire.
Security gates and anti- intruder: Security gates shall be erected and anti-intruder installed on the top of the port perimeter fence.
Security lighting shall be provided along the secure boundary.
High security external fencing
High security fencing panels such as 358 mesh. The panel have a width of 2.515 m with 76.2 mm × 12.6 mm × 4 mm mesh. The fencing has a marine coat (galvanised) finish of 4 mm. The fence is 3 m high with twin cranks for 3 wires of barbed or razor wire on top. Minimum foundations shall be 300 mm × 250 mm × 900 mm.
Fence posts are rectangular hollow steel section as per the specification with minimum size 80 mm × 60 mm. Both inside and outside of the section to be hot dip galvanised to BS EN 1461 and supplied with flat post caps in black polypropylene.
Mesh panels to be overlapped by 75 mm at posts and fixed on the port side, all to maintain the integrity of the fence.
Each post has a support stay at a fence height of 1.5 m extending downwards into the port side at 45°. This stay to be incorporated into a concrete support block of not less than 250 mm × 250 mm × 750 mm.
Razor wire
Three coils of galvanised razor of wire are located at the top of the fence mesh. The razor wire shall be attached by galvanised crimped rings, at not greater than 300 mm centres.
Temporary Chain Link Fence
Material: mild steel wire is galvanised prior to the application of a bonded PVC coating.
Wire core diameter 3.5 mm minimum diameter.
Wire size 4.75 mm minimum diameter.
Mesh sizes 50 mm maximum.
Chain link mesh is secured to top and bottom line wires with wire ties at 150 mm centres and to intermediate line wires at 450 mm centres.
Line wires to chain link mesh
The top line wire shall consist of two wires, one threaded through every other mesh, the other unthreaded. At least three other unthreaded line wires shall be provided below the top wires and equally spaced, the bottom wire being approximately 50 mm above the bottom of the mesh. All wires are galvanised mild steel. All line wires are attached to support posts by wire stirrups passing through holes in the posts, and shall be strained at each straining point by means of winding brackets.