High security mesh fencing list
Clear view fencing with anti-climb, anti-cut and high visible has high to low security options, for most secure, attractive, cost effective fencing solutions.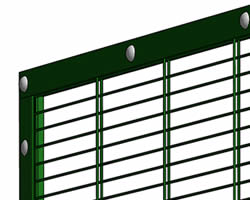 Double vertical wire anti climb fence, with fence top of razor barbed wire or security fence spikes, provides high security for prisons, military and power facilities.
358 extra high security mesh fencing welded panels with small mesh opening is difficult to penetrate, as anti-climb anti-cut barrier for prison-military establishments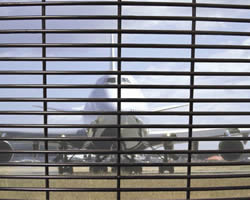 3510 high security welded mesh fence with anti-climb and anti-cut features is a superior security barrier for prison, railroad and airport.
3D welded anti-climb security fencing as an anti-climb & anti-cut through barrier gives building and area a secure perimeter protection with attractive appearance.
Paladin Fencing with pressed 'V' forms and 12.5-50mm/50-50mm mesh pattern additional 4mm diameter wires offers a rigidity anti-intruder barrier solution.
Palisade fencing with "D" and "W" section pale provides an effective deterrent to intruders, palisade rails post and fence fittings offered.
Roll top fencing has a closed rolled beam at top and bottom edge with no sharp or raw edges from 5mm wires powder coating in maximum rigidity and better safety.
Double wire mesh fence also called twin wire mesh fence is extremely strong and rigid mesh fence system with double horizontal wire welded to single vertical wire.
High security fencing is combination of razor barbed wire and welded wire panels or chain link fence effectively protecting your areas against vandals and intruders.
Chain link mini mesh fencing system with small mesh openings 1/4" or 3/8" plus razor barbed wire for highways, bridges, prisons and military high security fencing jobs.
We supply anti-intruder chain link and welded mesh fences at least 2.4 m. Gate, posts, base and other necessaries are supplied to adapt to different scenarios.
Expanded metal security fences and barriers provide perimeter security and access control to protect assets, such as industrial, governmental and institutional facilities.
We supply fence post in various shapes square post, rectangular post, peach post, T post, Y post, post caps and clips.